Mentorship Groups for Conductors and Teachers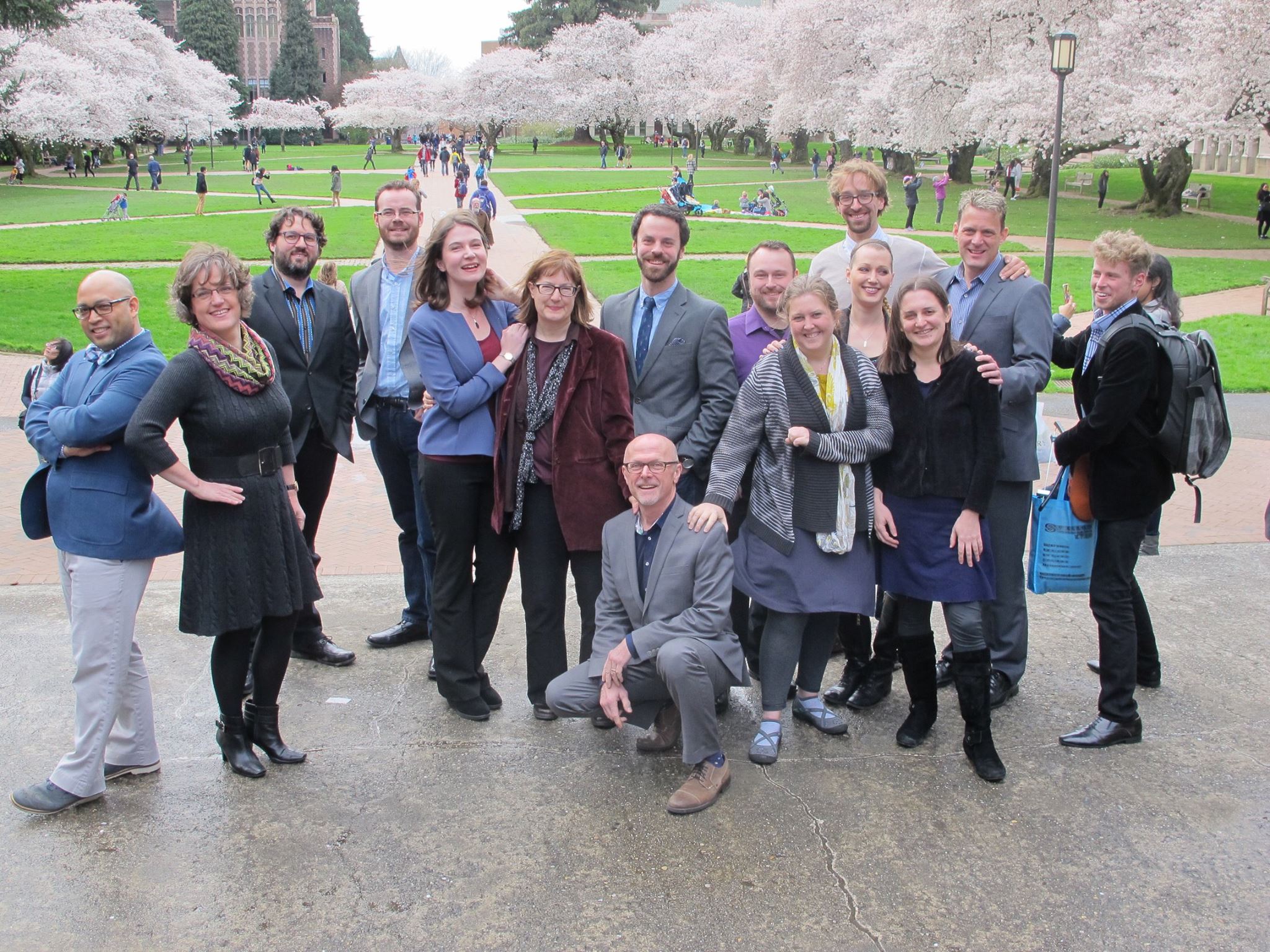 The University of Washington Choral Cohort was founded in 2004. Since that time the Cohort has developed in function as well as notoriety. Each year applicants to our program, both national and international students, remark that they were drawn to the UW in part due to the reputation and unique make-up of the Cohort. Each Autumn, the Cohort gathers for retreat, to study, work together, to think and share deeply, and to cook and celebrate another academic year. These non-academic times ponder essential elements of being a conductor become a part of our weekly pattern as well, as we gather each Monday morning for the business and activities of the week. We always begin with a thought for the week, a moment the student's jokingly refer to as Boers' weekly devotional. The topics vary from leadership, to gift assessment, from gratitude to dealing with stress, from collaboration to inner listening. My mission for the cohort has always been to develop Conductor-Teacher-Artist-Scholar-Servant-Leaders. The Cohort members are led to become aware of their distinct gifts, and given a safe and positive environment in which to play and discover ways to develop and/or mitigate weaknesses.
Musicians and music educators hold fast that music is essential and transformative. So I have developed the Cohort as a sort of Petri dish for the essen-tial study of the transformative nature of music. The students are invited to ponder those elements that create transformation, and then given opportunity to practice. Imagine a group of graduate students with eager faces and receptive attitudes first thing Monday mornings! Classes are full of positive and constructive observation, and thought. The students are engaged both as learner and peer teacher. It is not uncommon to see one student take out their cell hone and video something another student is saying or doing, and then immediately after class launch into a fierce discussion while looking at the video.
Competition is replaced by mutual support and affirmation. Students create and collaborate with each other. The Cohort creates their own performing ensemble themselves, a sort of Chanticleer or King Singers style chamber ensemble, which sings on one another's recitals. This allows each Cohort member to not only be a conductor of a choir, but a coach of a professional level ensemble.
Mentorship is an important topic in the current choral profession. We recognize as a choral culture that we need to do a better job of nurturing, encouraging, and educating young conductors, as well as inspiring and educating more seasoned conductors. Historically continuing education has relied on workshop models, most often provided in yearly conferences. It is difficult for any conductor to make significant or lasting growth from this model. Traditional mentorship is a one on one relationship and does not satisfy the demand for necessary outreach to conductors. My mentorship model is to provide a three-day intensive workshop, with varied applications of only a few related topics. Study of vocal technique rooted in the Vowel Chart (see also Vowel Chart in Teaching) is first explored. Students then play with empathic conducting gestures that have been developed to reflect the pedagogy shown in the chart. Lastly, the students discover methods to extend the empathic understanding of technique and artistry in rehearsal through mirroring and one on one teaching. This helps conductors see vocal technique, conducting gesture, and rehearsal pedagogy as three facets of a single simple pedagogy, which helps teachers immediately be more efficient and effective.
This mentorship model, as it takes root, encourages relationship between intergenerational conductors, as mentees range from college age students to retirees. Further, mentees return to the three-day intensive multiple times to further master the principles. In some cases the mentorship group continues to function on its own, and develops choral activities such as retreats, exchanges, and festivals for the members and their choirs. The Vancouver B.C.mentorship group has now developed a second group for new teachers.